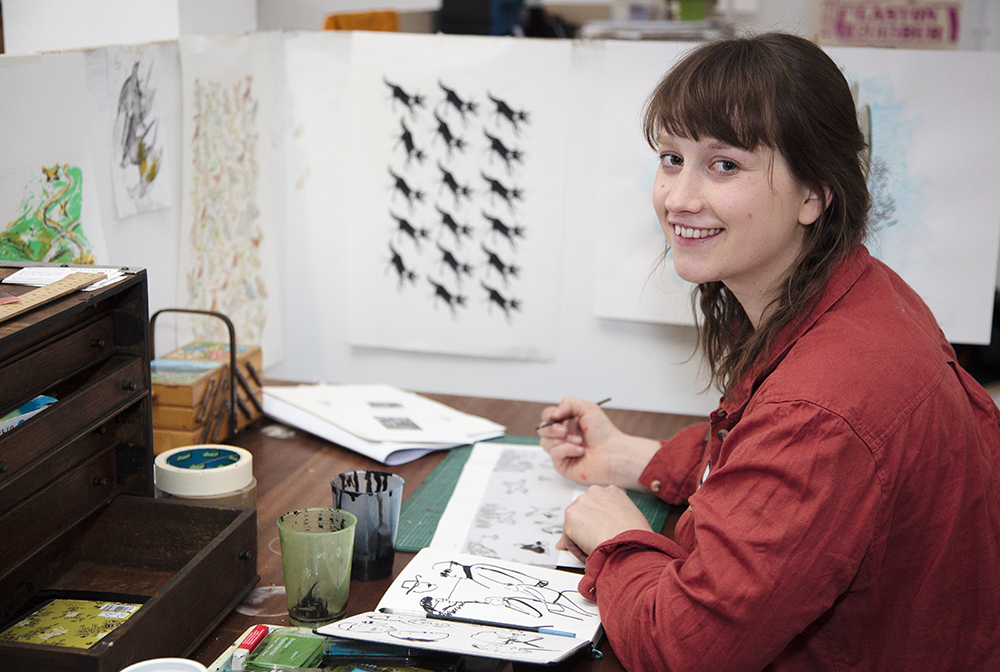 ABOUT ME

Victoria Willmott is a printmaker and artist educator with a BA in Illustration from Camberwell College of Arts and an MA in Multi-disciplinary Printmaking from University of the West of England. Victoria creates her illustrations from initial observational sketches of people, nature and buildings in cities she visits. Travelling by bike is Victoria's favourite way to explore a city, finding her own way around and noticing the everyday life and character of a place. Her drawings from life are then translated onto lino to create stamps that through playful compositions suggest narratives and mapping. Victoria enjoys the immediacy of printing lino by hand making the prints come to life one stamp at a time.
Victoria designs arts workshops for children and jointly set up
Bristol Print Collective
who deliver printmaking workshops for adults and children across the South West.
Artist CV



EXHIBITIONS

2019
The Masters Relief, RE Printmakers
Bankside Gallery, London, 13-24 Nov
2019
Centrespace Open
Centrespace Gallery, Bristol, 11 - 16 Oct
2019
Exchange II
Fyns Grafiske Værksted
, Odense, Denmark, 1 - 25 June
2019
Wanderings
Arteria Gallery, Lancaster 9 May - 5 Oct
2019
25 Years of Tobacco Factory
Tobacco Factory Cafe Bar, Bristol, 1 May - 4 June
2018
Front Room Arts Trail
Bocabar, Paintworks, Bristol 21 Nov - 2 Jan
2018
Visualising Stories
Southmead Hospital, Bristol Oct 27 - 14 Dec
2018
Interruptions
Felios Foundation, Athens, 3 - 27 Oct
2018
RWA Autumn Open
(selected not hung)
RWA, Bristol, 7 Oct - 25 Nov
2018
Exchange
North Art, Bristol, Aug 16-19
2017
UWE Annual Mini Print Exhibition
Arnolfini,
Bristol, 7 Dec
2017
Bristol to Odense
Christmas Steps Gallery,
Bristol, 9 Nov - 12 Nov
2017
In For a Penny
Unit 10 Studio, South Bank Arts Trail, 13-14 May
2016
Let Me Illustrate IV
The Grant Bradley Gallery, Bristol, 6 Aug - 26 Aug
2016
Print the People
Tokyo Art Book Fair, Japan, Sept 16-19
2016
Secret 7"
Sonos Studio London, 8 April - 6 May
2015
Secret 7"
Somerset House
, London April - May
2015
The Other Art Fair
in association with The House of Fairy Tales, London
2013
Friday Lates Peckham Takeover
Victoria and Albert Museum
, London
2013
Pick Me Up Illustration Graphic Arts Festival
Somerset House
, London
AWARDS & GRANTS
2020 Eaton Fund
Grant award for Artists, Nurses and Gentlewomen.
2020 Arts Council
2018 Rebecca Smith Memorial Award
Exemplar in Fine Art Printmaking
2015 Print Future Award Grant award for print, design and publishing
The Printing Charity
RESIDENCIES
2019
Topshed Residency
Norfolk, 1 - 7 August
2017
Bristol Print Collective Residency
Fyns Grafiske Værksted
, Odense, Denmark, 1 Aug - 30 Aug
2016
Bristol Print Collective
Unit 10, Bristol, 5 May - 14 May